Can't a Girl Catch a Break?!?!
I like to think of myself as a generally healthy person. I try to cut corners wherever I can. Like baked chips instead of the regular ol' greasy ones and Snackwell's cookies instead of Keebler's. Well, a few days ago, I spied my favorite Chocolate Soy milk at my grocery
store. It's been a while since they carried the brand Nature's Promise. And when I saw it on the shelves, I delightedly grabbed a carton, made a quick glance at the expiration date (June 20) and hummed a happy little tune.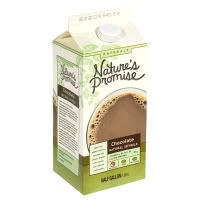 I got home
, placed it lovingly in the fridge and went about my day. The next day I had allergy medicine to take, so I opened the
carton and took a swig. (Don't judge me, I just dumped my fiance and I live alone -- I'm allowed to be a slob for a while.) It was a little thick, but it tasted okay, so I thought nothing of it. The following day, I shook the carton even harder and took another swig. Still freakishly thick, but got the job done.
Today I came home from work craving some chocolate and I brightened immediately at the thought of my choco soy milk just waiting in the fridge. I got a glass out and started to pour. Only, the stuff didn't "pour" it PLOPPED into the glass. Startled, I jerked back and looked at the carton. I thought maybe it was because I hadn't shook it before pouring. Cut me some slack, I haven't had it in 8 months and forgot what the consistency was supposed to be like. I poured that glass out, shook the carton like a can of spraypaint and tried again. Same thing. So I poured the whole freakin' carton down the drain. It was so thick I had to squeeze to get the crap to come out. Now it pains me to think of the few swallows I had the other days. I told my mom this and she said there's a moral to this story -- "Don't be a lazy ass. Pour it into a glass and drink it like you're supposed to." Well, okay, she didn't use the word ass, but I know she was thinking it.
It's going to be quite a while before I will even be able to look at that carton without cringing. From here on out it's me, my 1% milk and Hershey's chocolate syrup. Screw healthy!