MI3
Tom Cruise may be a freakin' weirdo in real life, but he did a fantastic job in MI3! I have enjoyed all the movies in this franchise. The first one had a great plot, the second was directed by John Woo (one of my all time faves) and 3 was directed by JJ
Abrams and had Philip Seymour Hoffman as the bad guy.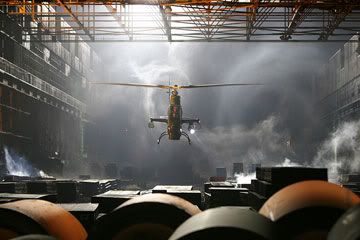 The movi
e starts in high gear and
pretty much stays that way the entire movie. It was a little over 2 hours and I never felt the time pass. Before going to see it, I heard all this hype about how JJ had gotten Keri Russell to be in the movie. I was shocked that she was in it for no more than 10 minutes. I thought she was going to be the lead! I guess that will teach me to listen to all the hype.


Ving Rhames was back as part of Ethan Hunt's group and was joined by Maggie Q as Zhen and Jonathan Rhys Meyers as Declan. JRM has the most beautiful eyes...but I digress. Their mission is to find and bring home Lindsay (Russell) who may have information that will allow them to infiltrate Owen Davian's (Hoffman) group. Lindsay tried to tell Ethan some important information but before she can, a small bomb in her brain goes off (it's not gruesome) and kills her.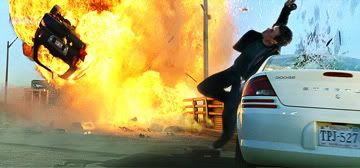 Ethan puts together a mission that apprehends Davian and tries to bring him back to IMF headquarters. The mission is compromised and Davian swears that he will find the people that matter most to Ethan and kill them. And when this man says something he means it. I love that about this Davian character. There's no messing with him. He's cruel, creative and brilliant. Abrams and company could not have found a better bad guy.


Of course Ethan's fiance is taken by Davian and Ethan isn't sure who he can trust at IMF so he basically goes rogue to get Julia back. He's aided by his team and well, I won't go further and spoil all the story, but it's great! I highly recommend this movie. You don't need to have seen the other 2 to understand what's going on and it's so fast paced it's like being on a roller coaster ride.

Abrams includes a couple of scenes that are very Alias-esque (if any of you are Alias fans that see the movie you'll know exactly what I'm talking about) and it's just great! It's been a while since I have seen such great special effects.
Don't be afraid that the couch jumping, professing Katie loving, Tom Cruise will ruin it because he doesn't at all.