Friskies -- Cat's Best Friend?
I don't usually fall in love with domestic cats. Sure, I adore tigers and panthers and such, but every day cats? Not so much. There is this very cute, all black cat in my neighborhood and she's a friendly little thing and has green eyes that look like jewels. So I have named her Isis and we talk every couple of days. Well, to me, Isis looked a little on the thin side and sinc
e she doesn't wear a collar I thought she might not be eating properly.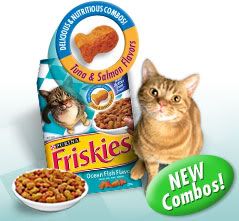 So, I tackle
the pet food section and I see
Friskies Ocean Fish
flavored dry food and I remember those Friskies commercials where the cat comes zooming across the floor because he can smell the Friskies from a mile away. So I bring it home, put some in a little bowl and wait for my friend. She shows up and I'm like a kid in a candy store. I
rush in, get the food, and come back out thinking, "this cat is gonna
love
me!" I set it down in front of her, she sniffs it, looks at me and then
turns her back on the bowl
. She has absolutely no interest in eating my Friskies! So she's either not that hungry or someone is feeding her. I'll try again the next time I see her. Stupid Friskies!